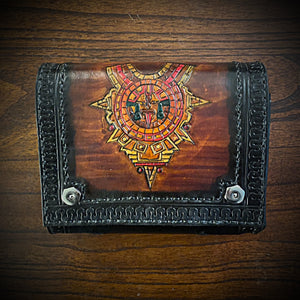 Made from 10oz weight thick Herman Oak leather. 
Handlebar bags.
This bag attaches between ape-hangers. It faces you as you ride and has magnetic closures so you can quickly grab things out and easily put things in the bag.
Measures 8" long x 5" tall x 3" wide
For security have a lock and key kit added to the pouch, click here. 
Comes with four straps, two attach underneath and two on the sides. Slots are made in the bag so the buckle straps are hidden inside the bag and do not damage your bars.
To learn more about our handlebar bags click here.