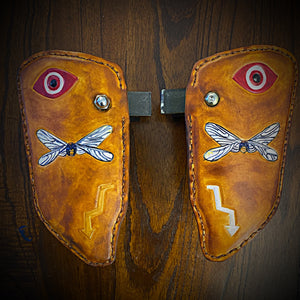 We use the Memphis Shades lowers and wrap them in leather for you. Please make sure to tell us the brand, make and model of motorcycle you have so we can make sure they fit. If you want a different brand of lowers we can get them, just let us know. You will have to pay any difference in price. 
The lowers in the pictures on this listing are not the Memphis Shades brand. We can get the same brand just let us know and we will send you a quote. 
We wrap the lowers using grade "A" vegetable tanned leather. We apply the leather by hand and sew it all together. We also apply the art you want and dye it the color you want. Let us know what art you want, color of leather and color of stitching.